( ! )

Warning: mysqli_query(): (HY000/1021): Disk full (/var/tmp/#sql_1064_0.MAI); waiting for someone to free some space... (errno: 28 "No space left on device") in /sites/wikiprograms.org/wp-includes/wp-db.php on line 2007
Call Stack
#
Time
Memory
Function
Location
1
0.0002
239688
{main}( )
.../index.php:0
2
0.0003
240336
require( '/sites/wikiprograms.org/wp-blog-header.php' )
.../index.php:17
3
0.6996
14075840
wp( )
.../wp-blog-header.php:16
4
0.6996
14076056
WP->main( )
.../functions.php:1105
5
0.7054
14083856
WP->query_posts( )
.../class-wp.php:739
6
0.7054
14084184
WP_Query->query( )
.../class-wp.php:622
7
0.7055
14090216
WP_Query->get_posts( )
.../class-wp-query.php:3387
8
0.7146
14215656
update_post_caches( )
.../class-wp-query.php:3146
9
0.7147
14216864
update_object_term_cache( )
.../post.php:6411
10
0.7147
14219096
wp_get_object_terms( )
.../taxonomy.php:3390
11
0.7148
14220464
get_terms( )
.../taxonomy.php:2016
12
0.7149
14228520
WP_Term_Query->query( )
.../taxonomy.php:1178
13
0.7149
14230168
WP_Term_Query->get_terms( )
.../class-wp-term-query.php:288
14
0.7155
14244616
wpdb->get_results( )
.../class-wp-term-query.php:695
15
0.7156
14244816
wpdb->query( )
.../wp-db.php:2579
16
0.7157
14245184
wpdb->_do_query( )
.../wp-db.php:1895
17
0.7157
14245232
mysqli_query ( )
.../wp-db.php:2007
Популярные программы
( ! )

Warning: mysqli_query(): (HY000/1021): Disk full (/var/tmp/#sql_1064_0.MAI); waiting for someone to free some space... (errno: 28 "No space left on device") in /sites/wikiprograms.org/wp-includes/wp-db.php on line 2007
Call Stack
#
Time
Memory
Function
Location
1
0.0002
239688
{main}( )
.../index.php:0
2
0.0003
240336
require( '/sites/wikiprograms.org/wp-blog-header.php' )
.../index.php:17
3
0.7212
14239712
require_once( '/sites/wikiprograms.org/wp-includes/template-loader.php' )
.../wp-blog-header.php:19
4
0.7242
14289456
include( '/sites/wikiprograms.org/wp-content/themes/wiki/single.php' )
.../template-loader.php:77
5
0.7834
14712768
dynamic_sidebar( )
.../single.php:5
6
1.2152
30883928
call_user_func_array:{/sites/wikiprograms.org/wp-includes/widgets.php:770} ( )
.../widgets.php:770
7
1.2152
30884496
WP_Widget->display_callback( )
.../widgets.php:770
8
1.2153
30892952
WPP_Widget->widget( )
.../class-wp-widget.php:378
9
1.2156
30904424
WPP_Widget->get_popular( )
.../class-wordpress-popular-posts-widget.php:130
10
1.2435
17748040
WPP_Output->__construct( )
.../class-wordpress-popular-posts-widget.php:339
11
1.2473
17759176
WPP_Output->build_output( )
.../class-wordpress-popular-posts-output.php:68
12
1.3502
18003224
WPP_Output->render_post( )
.../class-wordpress-popular-posts-output.php:120
13
1.3541
18019040
WPP_Output->get_taxonomies( )
.../class-wordpress-popular-posts-output.php:201
14
1.3541
18019136
wp_get_post_terms( )
.../class-wordpress-popular-posts-output.php:560
15
1.3542
18019840
wp_get_object_terms( )
.../post.php:3268
16
1.3542
18021112
get_terms( )
.../taxonomy.php:2016
17
1.3542
18028360
WP_Term_Query->query( )
.../taxonomy.php:1178
18
1.3543
18028840
WP_Term_Query->get_terms( )
.../class-wp-term-query.php:288
19
1.3548
18041184
wpdb->get_results( )
.../class-wp-term-query.php:695
20
1.3549
18041408
wpdb->query( )
.../wp-db.php:2579
21
1.3550
18040184
wpdb->_do_query( )
.../wp-db.php:1895
22
1.3550
18040232
mysqli_query ( )
.../wp-db.php:2007
( ! )

Warning: mysqli_query(): (HY000/1021): Disk full (/var/tmp/#sql_1064_0.MAI); waiting for someone to free some space... (errno: 28 "No space left on device") in /sites/wikiprograms.org/wp-includes/wp-db.php on line 2007
Call Stack
#
Time
Memory
Function
Location
1
0.0002
239688
{main}( )
.../index.php:0
2
0.0003
240336
require( '/sites/wikiprograms.org/wp-blog-header.php' )
.../index.php:17
3
0.7212
14239712
require_once( '/sites/wikiprograms.org/wp-includes/template-loader.php' )
.../wp-blog-header.php:19
4
0.7242
14289456
include( '/sites/wikiprograms.org/wp-content/themes/wiki/single.php' )
.../template-loader.php:77
5
0.7834
14712768
dynamic_sidebar( )
.../single.php:5
6
1.2152
30883928
call_user_func_array:{/sites/wikiprograms.org/wp-includes/widgets.php:770} ( )
.../widgets.php:770
7
1.2152
30884496
WP_Widget->display_callback( )
.../widgets.php:770
8
1.2153
30892952
WPP_Widget->widget( )
.../class-wp-widget.php:378
9
1.2156
30904424
WPP_Widget->get_popular( )
.../class-wordpress-popular-posts-widget.php:130
10
1.2435
17748040
WPP_Output->__construct( )
.../class-wordpress-popular-posts-widget.php:339
11
1.2473
17759176
WPP_Output->build_output( )
.../class-wordpress-popular-posts-output.php:68
12
1.3574
18046048
WPP_Output->render_post( )
.../class-wordpress-popular-posts-output.php:120
13
1.3613
18061128
WPP_Output->get_taxonomies( )
.../class-wordpress-popular-posts-output.php:201
14
1.3613
18061224
wp_get_post_terms( )
.../class-wordpress-popular-posts-output.php:560
15
1.3614
18061928
wp_get_object_terms( )
.../post.php:3268
16
1.3614
18063200
get_terms( )
.../taxonomy.php:2016
17
1.3615
18070448
WP_Term_Query->query( )
.../taxonomy.php:1178
18
1.3615
18070928
WP_Term_Query->get_terms( )
.../class-wp-term-query.php:288
19
1.3623
18083264
wpdb->get_results( )
.../class-wp-term-query.php:695
20
1.3624
18083488
wpdb->query( )
.../wp-db.php:2579
21
1.3625
18082168
wpdb->_do_query( )
.../wp-db.php:1895
22
1.3625
18082216
mysqli_query ( )
.../wp-db.php:2007
( ! )

Warning: mysqli_query(): (HY000/1021): Disk full (/var/tmp/#sql_1064_0.MAI); waiting for someone to free some space... (errno: 28 "No space left on device") in /sites/wikiprograms.org/wp-includes/wp-db.php on line 2007
Call Stack
#
Time
Memory
Function
Location
1
0.0002
239688
{main}( )
.../index.php:0
2
0.0003
240336
require( '/sites/wikiprograms.org/wp-blog-header.php' )
.../index.php:17
3
0.7212
14239712
require_once( '/sites/wikiprograms.org/wp-includes/template-loader.php' )
.../wp-blog-header.php:19
4
0.7242
14289456
include( '/sites/wikiprograms.org/wp-content/themes/wiki/single.php' )
.../template-loader.php:77
5
0.7834
14712768
dynamic_sidebar( )
.../single.php:5
6
1.2152
30883928
call_user_func_array:{/sites/wikiprograms.org/wp-includes/widgets.php:770} ( )
.../widgets.php:770
7
1.2152
30884496
WP_Widget->display_callback( )
.../widgets.php:770
8
1.2153
30892952
WPP_Widget->widget( )
.../class-wp-widget.php:378
9
1.2156
30904424
WPP_Widget->get_popular( )
.../class-wordpress-popular-posts-widget.php:130
10
1.2435
17748040
WPP_Output->__construct( )
.../class-wordpress-popular-posts-widget.php:339
11
1.2473
17759176
WPP_Output->build_output( )
.../class-wordpress-popular-posts-output.php:68
12
1.3670
18060760
WPP_Output->render_post( )
.../class-wordpress-popular-posts-output.php:120
13
1.3837
18074632
WPP_Output->get_taxonomies( )
.../class-wordpress-popular-posts-output.php:201
14
1.3837
18074728
wp_get_post_terms( )
.../class-wordpress-popular-posts-output.php:560
15
1.3837
18075432
wp_get_object_terms( )
.../post.php:3268
16
1.3838
18076704
get_terms( )
.../taxonomy.php:2016
17
1.3839
18083952
WP_Term_Query->query( )
.../taxonomy.php:1178
18
1.3839
18084432
WP_Term_Query->get_terms( )
.../class-wp-term-query.php:288
19
1.3846
18096776
wpdb->get_results( )
.../class-wp-term-query.php:695
20
1.3846
18097000
wpdb->query( )
.../wp-db.php:2579
21
1.3848
18095808
wpdb->_do_query( )
.../wp-db.php:1895
22
1.3848
18095856
mysqli_query ( )
.../wp-db.php:2007
Lua for Windows

Октябрь 27, 2013
Lua for Windows (LfW) – интерпретируемый язык программирования, разработанный подразделением Tecgraf Католического университета Рио-де-Жанейро (Computer Graphics Technology Group of Pontifical Catholic University of Rio de Janeiro in Brazil). Разработанный интерпретатор является свободно распространяемым, с открытыми исходными текстами на языке Си.
По возможностям, идеологии и реализации язык ближе всего к JavaScript, однако Lua отличается более мощными и гораздо более гибкими конструкциями. Хотя Lua не содержит понятия класса и объекта в явном виде, механизмы объектно-ориентированного программирования, включая множественное наследование, легко реализуются с использованием метатаблиц, которые также отвечают за перегрузку операций и т. п.. Реализуемая модель объектно-ориентированного программирования – прототипная (как и в JavaScript).
Язык широко используется для создания тиражируемого программного обеспечения – в частности, на нём написан графический интерфейс пакета Adobe Photoshop Lightroom. Также получил известность как язык программирования уровней и расширений во многих играх (например, World of Warcraft) из-за удобства встраивания, скорости исполнения кода и лёгкости обучения.
Lua обычно называют мультипарадигменным языком. Он обеспечивает небольшой набор базовых механизмов, которые могут быть расширены для решения различных задач, а не набор сложных жёстких спецификаций, обеспечивающих программирование в единой парадигме.
Так, в Lua отсутствует явная поддержка наследования, однако оно легко реализуется с помощью метатаблиц.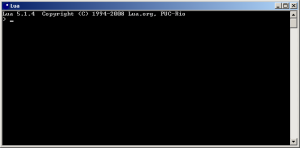 Ссылки
Без рубрики